Outstanding range of leads – the machine for demanding wires
Ideal for difficult-to-strip wires
Processes a broad range of insulation types and materials
Processes wires up to 16 mm² conductor cross section (AWG 5) and up to 72 mm strip length
Excellent stripping quality
4X-rotary blades for precise processing and high pull-off force
Functions to minimize damage to conductors
Article library and barcode scanning prevent input errors
High productivity
Sequential processing functions for convenient and time-saving processing of multi-conductor and multi-layer cables
Barcode scanning to quickly select articles
Quick mode when rotary incision is disabled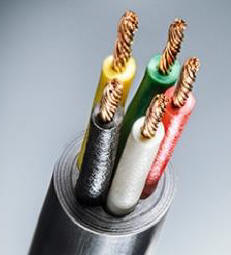 A broad range of applications with a single machine
Mira 340 and 340 Q cover a large span of wire specifications up to 16 mm² conductor cross section (AWG 5) and up to 72 mm strip length. They strip, cut and twist wires and cables with maximum precision. Even demanding insulating materials such as tough Teflon®, strong Kapton® and pliable silicon can be processed.
Outstanding stripping quality
Both models feature a rotary cutting head. This is combined with 4x blades to provide a strong and balanced grip when pulling off insulation and a high level of stripping quality. Both machines offer special capabilities like the offset pull-off with pre-pull-off to protect the conductor. Every wire and every sequence can be stored in the article library. Search and filter functions allow users to access the processing parameters and reproduce required articles error-free at any time.
Outstanding design
Operation via the large touchscreen is as simple and intuitive as on a smartphone. Users can set their preferred language and the operating steps are quick and easy to learn. All functions are displayed graphically and clarified via help texts. Barcode scanning enable articles to be loaded error-free and parameters can be changed using the dial. The ergonomic had rest ensures effortless operation and the LED lighting provides good visibility. The safety cover can be removed easily to allow cleaning and maintenance and any required devices taken from the accessory drawer. An ergonomic carry handle makes the smart wire stripper perfectly mobile.
Mira 340 Q with ACD – patented and useful in more ways than one
The ACD (Automatic Conductor Detector) on the Mira 340 Q is the first application worldwide with rotary incision. This innovation is protected internationally by multiple patents. ACD detects and signals even the slightest contact between the blade and the conductor and is an important monitoring function, particularly for difficult wires where the blades cut close to the conductor. This function can be activated for quality assurance purposes during incision or pulling-off. The user specifies whether defective wires that need to be rejected should be cut or if the gripper release needs to be manually approved. The Mira 340 Q also uses ACD technology for automatic adjustment. The blade incision values are modified based on the measured conductor diameter.