Processing of a larger range of cross sections
Double side crimping or twisting, fluxing and tinning (even lead-free)
Can handle double side crimped wires as short as 20mm
Minimal footprint thanks to a compact design
Readily accessible
Function
The Komax Gamma 255 is a flexible fully automatic crimping machine for efficient wire processing. It processes cross sections in a range from 0.0123mm²/AWG36 to 2.5mm²/AWG14 in excellent quality. It is compatible with all commercially available applications. It also handles double side crimped wires as short as 20mm.
Technology
The entire cross section is processed using programmable, highly dynamic servo-drives and V stripping blades. As part of its standard equipment, the machine has a prefeeder, splice, wire-end and knot detection, as well as two wire straightening units. The integrated prefeeder assures gentle wire feed from drums, coils or reels even at high draw-in speeds. A bad wire handling system with automatic post-production is also integrated in the Gamma 255. The machine has a WPCS interface so it can fit seamlessly into your network. To verify quality, you can also integrate devices for measuring crimp height (Komax 341) and pull-out force (Komax 331/332) right into the production process. In wire deposition, you have your choice of a wear-resistant passive deposit unit and an active deposit unit featuring batch sorting.
User Friendly
The compact layout is carefully thought-out and allows you to change over from crimping to twisting, fluxing and tinning in no time at all. With its vertically opening safety cover, the Komax Gamma 255 is readily accessible from all sides. Operations and material handling are convenient and simple. The reliable TopWin user interface adds to this high level of user convenience in over 20 different languages.
Flexible
Contemporary wire processing requires total solutions with optimized functions and costs. To meet these demands, processing modules such as the mci 712 and mci 722 crimping presses, the mci 782 twisting module, and the ioc 785 fluxing/tinning module with all process monitoring units are integrated right into the TopWin user software. With a choice of three different crimping presses, you can adapt the Gamma 255 to meet your individual needs. No matter what products you manufacture on the Gamma 255, this machine's intuitive operations allow you to make full use of its flexibility. All product data is saved in a database and can be retrieved at any time.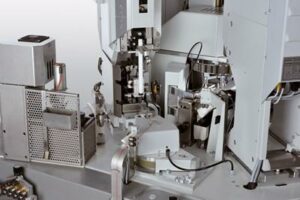 Gamma 255 Fitted with Tinning System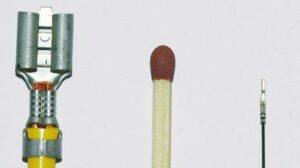 Software
The optional interface WPCS (Wire Processing Communication Standard) allows Komax machines to be networked under TopWin. With this open interface, the machine is easy to integrate into existing production sequences.
TopNet is a clearly arranged mana-gement software with functions for the centralized creation and management of parts, articles and jobs that help you to optimize your production operations.
TopConvert can be used to convert already existing job and article lists to WPCS format. This data can then be directly processed by fully automatic crimping machines.
Processing modules
The Gamma 255 can be customized with various accessories to meet specific customer needs:
mci 712/722 crimping module
mci 782 twisting module
ioc 785 fluxing/tinning Device
Accessories/options
You can add various accessories to the Komax Gamma 255 to adapt it to your specific needs.
Komax 331, 332, 341, 351
Tower light, magnifying glass
UPS uninterruptible power supply
Deposit gripper for fine wires
Reel stand
Komax 104 de-reeling system
Conveyor belt, basic module 3m
Services
Komax offer to you an optimal support by individual Service offers.
After-Sales Service
Production Assistance
Certified Training Courses
Feasibility Test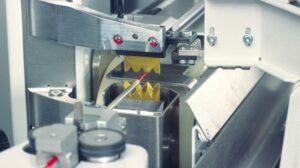 Komax Gamma 225 Triple Blade System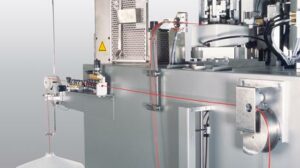 Gamma 255 Integrated Wire Feed and Reservoir – Ensures a smooth supply of material for processing.