Highly precise processing of micro conductors
Stripping in up to 9 steps
Ease of operation
Extremely low maintenance
Light and portable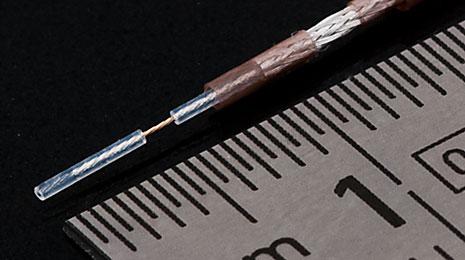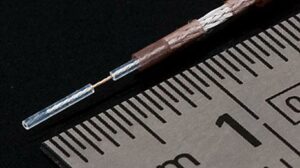 Area of application
The Cosmic 42R stripping machine is used for micro-coaxial cables involving especially tough precision requirements. Cosmic 42R optimally processes coaxial cables, triaxial cables and cables with especially thin, hard or tough insulation.
Conductors with braided insulation, e.g. polyester fibers, also belong to the processing range.
The Cosmic 42R is ideal for a great diversity of products made in small to medium quantities.
Rotating stripping head with centring
The blade head of the Cosmic 42R is fitted with three blades and three centring units. Stripping with rotating blades and centring offers major advantages:
The centring unit positions the cable with precision.
The rotating blades cut the entire circumference of the insulation with precision.
The force needed for pull-off is reduced to a minimum.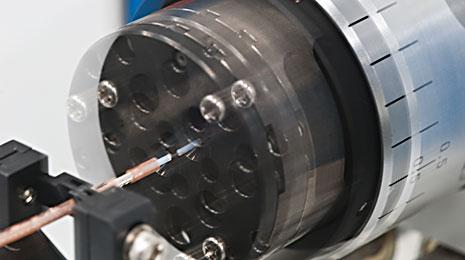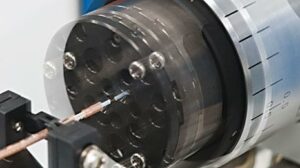 Multi-step stripping
The Cosmic 42R strips multi-layered conductors in up to 9 steps. The processing steps can be programmed in any desired order. The cutting
parameters can be independently set and optimised for every level. The Cosmic 42R has a memory that accommodates 1000 different conductors along with all processing parameters.
Micro-coaxial connectors put the toughest demands on the precise processing of multilayered conductors. The Cosmic 42R carries out all cuts with ultra-precision and creates the best prerequisites for a top quality coaxial connection.
Twisting conductor tips
Twisting the tips of conductors prevents splayed stranded wires. The twisting function of the Cosmic 42R prepares the cable in an optimum way for being handled during assembly or tinning.
Operation
The operation of the Cosmic 42R is intuitive. The graphical display assists the operator with setting the processing parameters. Parameters such as the turning and feed speed, cut duration, pull-off speed etc. are presented in an straight-forward table.