Highly flexible with up to five or seven processing stations
Integration of standard and customer-specific processes possible
Many processing configurations to choose from
Integrated quality measurements
Create the next job while the machine is running
Can be integrated in a network with WPCS interface
Function
Along with the most frequent standard processes of crimping and seal loading, you can obtain a large variety of processing modules such as: fluxing/tinning, twisting the ends of wires, fitting with insulating sleeves and crimping modules for the widest variety of contacts types, ultrasonic or resistance welding modules. You can integrate customer-specific processing stations easily with the ultra-flexible TopWin software.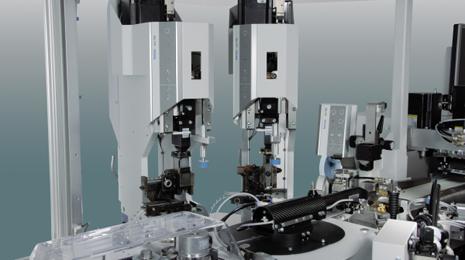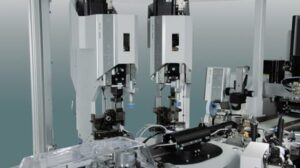 High productivity
With the reliable TopWin software you can record and edit jobs while the machine is running. The quick wire selector, quick tool-change system and other options ensure excellent productivity especially if there are frequent changeovers.
Maximum quality control
Crimp-height measurement and fully automatic pull-out force measurement are integrated in the process sequence. Optional material-change detection and the optional barcode scanner help to prevent materials from getting mixed up.
The processes are constantly checked against the specified values during production with functions that monitor crimp force, seals, splices, end of wire supply, and length. Any cables with processing defects are removed and an appropriate number of cables are post-processed automatically to replace them.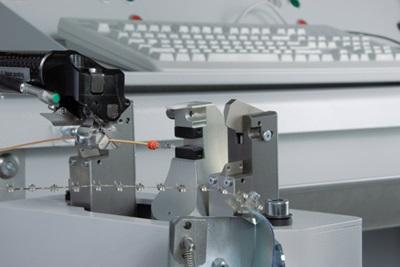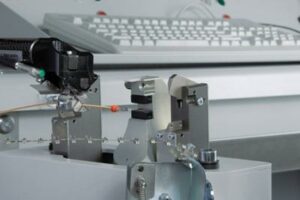 User friendly
The drive unit for the blade head is placed underneath, giving the machine a neat and ergonomic layout. All processing stations have safety covers that open vertically for optimum access, and application-specific parts like applicators and contact rolls can be changed without tools. Controls are placed at decentralized positions, allowing the necessary machine functions to be triggered during setup. All setting and adjustment procedures can be controlled from the TopWin graphical user interface in the operator's choice of over 20 different languages.
Software
The optional interface WPCS (Wire Processing Communication Stand-ard) allows Komax machines to be networked under TopWin. With this open interface, the machine is easy to integrate into existing production sequences.
TopNet is a clearly arranged mana-gement software with functions for the centralized creation and management of parts, articles and jobs that help you to optimize your production operations.
TopConvert can be used to convert already existing job and article lists to WPCS format. This data can then be directly processed by fully automatic crimping machines.
Processing modules
The Alpha 356 can be customized with various accessories to meet specific customer needs.
mci 712/722 crimping module
mci 782 twisting module
ioc 785 tinning module
mci 765 C seal module
mci 792 sleeve module
AEH module for end sleeve for strand
MIL crimp module
Welding and ultrasonic modules
Customer-specific special modules
Accessories/options
The Alpha 356 can be customized with various accessories to meet specific customer needs.
Preliminary processing of wires
Inkjet marker
Hot-stamp marker
K106/ads117/119 de-reeler
Wire deposition
Basic module, 2m (78.7in) or 4m (157.5in)
Extension module, 2m or 4m
Measuring devices
Fully automatic pull-out force measurement
External measurement of crimp height and pull-out force
WPCS, TopConvert, TopNet
Process monitoring
Crimp force analysis (CFA)
Material change detection
Seal position monitoring (SPM)
Splice detection
Wire-end detection
Services
Komax offer to you an optimal support by individual Service offers.
After-Sales Service
Production Assistance
Certified Training Courses
Feasibility Test