Function
The Komax Kappa 310 is an ultra-compact and reasonably priced high-speed cut and strip machine. It is designed for the reliable controlled processing of the finest wire sizes from 0.02mm² to 6mm². All process parameters can be saved along with applied pressure values.
Broad range of wire sizes and process options
New type of sensors for quick set up and process monitoring
Easy to use touch screen for programming and operation
A wealth of interfaces for pre and post processing
TopWin software available for offline and network possibilities
Sensors
The conductor diameter and cross section are automatically detected by a sensor, so new cable material can be set up and parameterized at the press of a button. Setup used to be extremely time-consuming. This unique measuring approach reduces this procedure to an absolute minimum. Thanks to the optical cable detector, cut losses are also a thing of the past. The same sensor continuously monitors processing during production. The end of the cable or stripping errors are detected at the earliest possible point in time.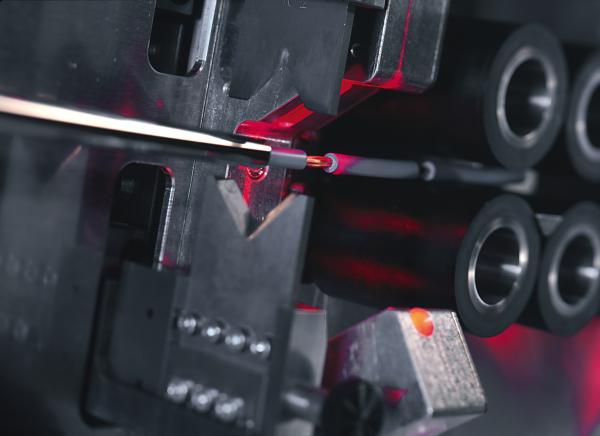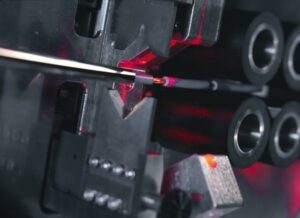 Periphery and interfaces
The integration of wire feeding systems, markers, deposition units, and other peripheral devices is standardized and easy. Up to six peripheral devices can be controlled parallel to the main system depending on the machine model. Data backup, updates, import of CSV cable and product data are handled over a USB stick.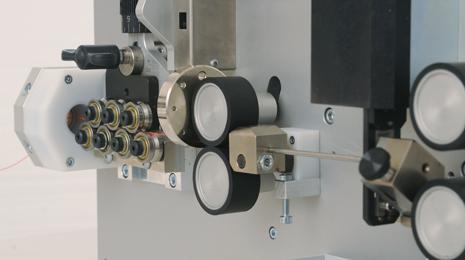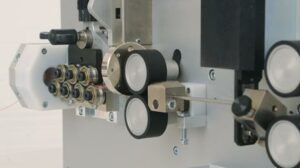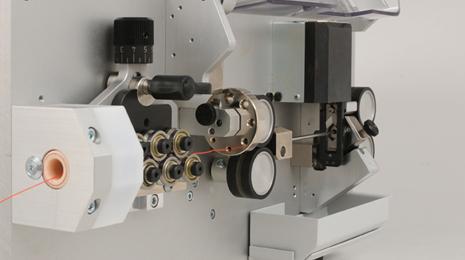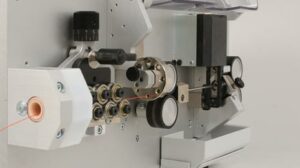 Software
TopTouch is an intuitive touch screen user software modeled on the TopWin structure found in automatic crimping machines. With the integrated user prompts, Kappas are extremely easy to operate.
TopWin Kappa expands the capabilities and functions of the fully automatic Kappa cutting and stripping machines. The PC-based control software allows sequence production and part list processing. The products to be produced may be loaded directly to the wire processing machine or via a job list.
The optional interface WPCS (Wire Processing Communication Stand-ard) allows Komax machines to be networked under TopWin. With this open interface, the machine is easy to integrate into existing production sequences.
TopNet is a clearly arranged mana-gement software with functions for the centralized creation and management of parts, articles and jobs that help you to optimize your production operations.
TopConvert can be used to convert already existing job and article lists to WPCS format. These data may then be processed directly by the cutting and stripping machine.
Accessories/options
The Komax Kappa line can be customized with various accessories to meet specific customer needs.
Feed systems
Komax 104 passive dereeler
Wire feed systems
ads 115, ads 119
Preliminary processing of wires
Komax 26 hot stamp marker
Komax 62 notching and slitting machine
CSU intermediate stripping module
Inkjet ims 295 (BC/MC/BS) in offline mode
Deposit systems
dps 272 dual drum coiler
KRI 800 wire coiler
dps 261 Binder
dps 375 wire deposit system
KA 3000 wire deposit system
Services
Komax offer to you an optimal support by individual Service offers.
After-Sales Service
Production Assistance
Certified Training Courses
Feasibility Test